Feb 05, 2020 Anjan Barman
Tailored experiences, social engagement, quicker issue resolution, and omnichannel interaction – businesses falling short of expectations in any of these stand to be obliterated. Customer satisfaction is of paramount importance and modern tools like Dynamics 365 exist precisely for this.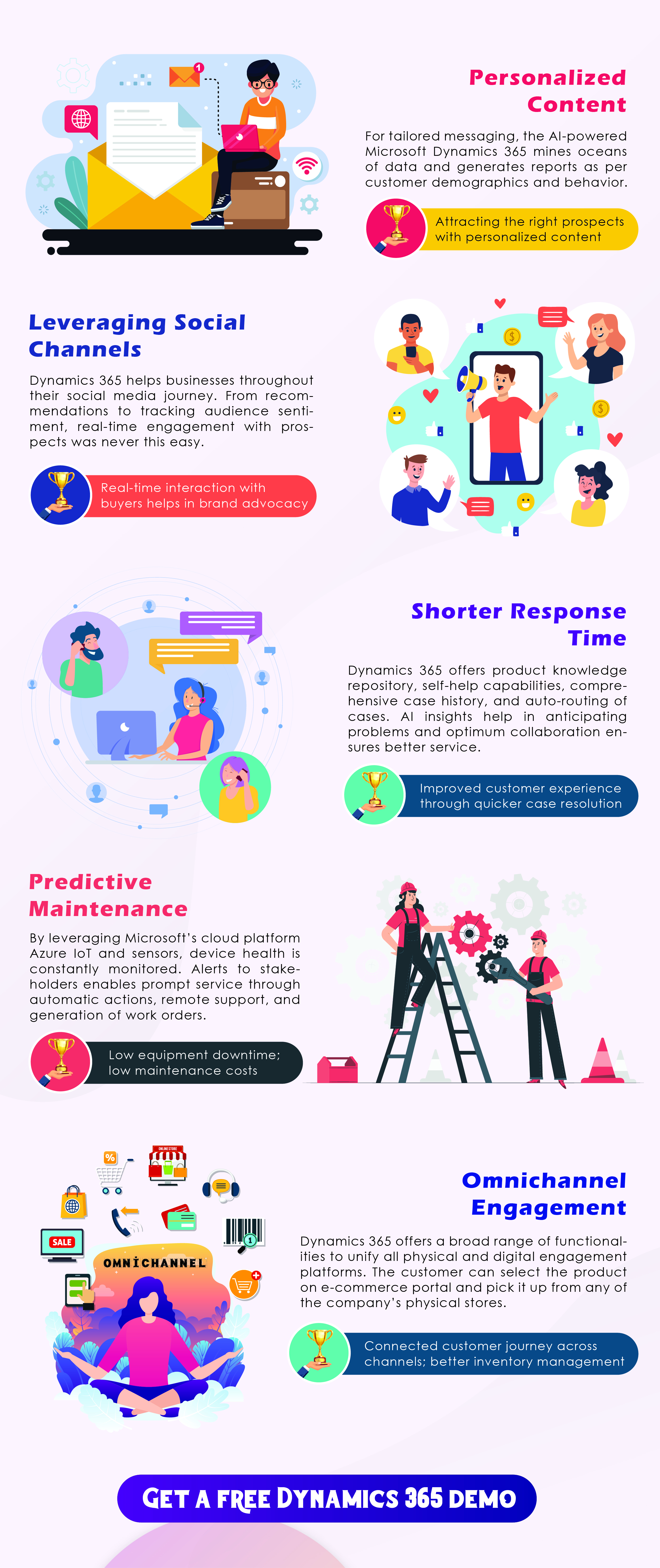 Curious for more? There you are!!
Customer is king – no two ways about that. The ceaseless demands of the customer would touch new heights in 2020 and CRM would have a pivotal role to fulfill those. Among the modern CRMs, Microsoft Dynamics 365 leads the way and here's how it helps businesses cater to the high expectations of your customer.
Personalized content
The customer wants to be pampered beyond conventional marketing and promotional efforts. For creating tailored marketing messages and targeting them at the intended audience, one needs Artificial Intelligence. The AI-powered Microsoft Dynamics 365 can mine oceans of data and generate easily comprehensible reports that can be filtered as per customer demographics and behavior. This data can be tapped for customer profiling that helps in multi-channel marketing campaigns.
Benefits: Attracting the right prospects with personalized content
Leveraging social channels
Today, social media is the focal point in the efforts of reaching out to the customer. There hardly exists any better one-to-one marketing channel with a higher conversion rate. Brand image can be built or tarnished and customer acquisition and retention can be boosted by deploying the correct tool to leverage social channels. One such tool is Dynamics 365 that helps businesses throughout their social media journey. From posting messages to tracking audience communication and sentiment across multiple channels, real-time engagement with prospects was never this easy.
Benefits: Real-time interaction with buyers helps in brand advocacy
Shorter response time
Customer service quality is determined by resolution time and quality. Customers want their time to be valued and the service process to be simple. For this Dynamics 365 offers a plethora of conveniences including product knowledge repository, self-help capabilities, comprehensive case history, and auto-routing of cases to specialists. AI insights help in anticipating frequently occurring problems and optimum collaboration ensures better service to the customer.
Benefits: Improved customer experience through quicker case resolution
Predictive maintenance
This is a revolutionary step in the realm of field services. By leveraging Microsoft's cloud platform Azure IoT and sensors attached to devices such as electronics and vehicle systems, device health can be constantly monitored. Alerts can be sent to stakeholders even before a problem occurs. Prompt service is delivered by the triggering automatic actions, remote support, and generation of work orders. This greatly cuts down the hassles of the customer and ensures better efficiency of the devices.
Benefits: Low equipment downtime; low maintenance costs
Omnichannel engagement
An omnichannel approach combines various retail touchpoints like in-store, social media, online, and mobile app into a unified experience. In multichannel engagements, these physical and digital channels are siloed and hence the interaction with the customer is also siloed. Dynamics 365 offers a broad range of functionalities to unify all physical and digital engagement platforms to offer an unparalleled omnichannel experience to the customer. Now the customer can select the product on the e-commerce portal and pick it up from any of the company's physical stores. If they aren't happy with the product, they can request the return the product online or at any of the stores.
Benefits: Connected customer journey across channels; better inventory management
A competent customer relationship management (CRM) software isn't an option but an absolute necessity for businesses that realize the worth of their customers. Microsoft Dynamics 365 stands as one of the most widely used CRMs owing to its customer-centric functionalities. At Nalashaa, we have a large pool of experts who have successfully implemented Dynamics 365 to change the face of numerous global organizations over the years. Drop your details to learn about our unique process of reinventing your business and boosting its efficiency.