Since its inception, Dynamics CRM has been a de-facto standard in sales, marketing, customer service and industry solutions.
Well, Dynamics 365 provides no exception and continues to build on the legacy of the Microsoft Dynamics family. Social Engagement provides powerful social tools in the hands of business professionals and helps them gain insights about how clients feel about their business and brands. This, in turn, empowers the business teams to proactively connect with fans, customers and critics alike.
In short, this is the ultimate business 'sentiment analysis' of the modern times.
3 benefits of Social Engagement in Dynamics 365
Listen Everywhere on the web


This helps to understand how people really feel about your business and
how you rank up to your competitor.

Analyze Sentiment


This helps determine your share of voice across social media channels, and also mark the 'key influencers' of your domain sphere.

Drive Engagement


This helps foster conversations about your brand and gain insight to effectively shape your communication and strategy.
Features of Social Engagement in Dynamics 365:
Social Listening:

Listen to what people are saying about your business, brand, product, and topics that matter to you. Gain social insights about your domain SWOT. This, in turn, will help you understand your key influencers and stay informed with alerts about trending topics.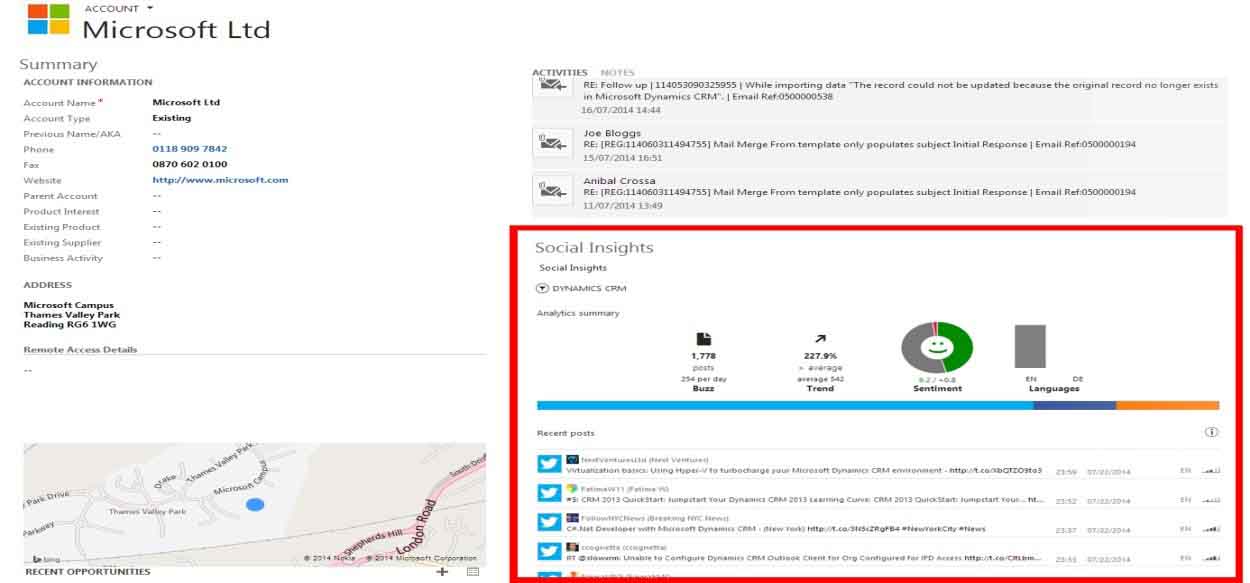 Social CRM:

Add social insight charts and graphs to Dynamics 365 dashboard and record forms to view and act on social media on matters which affects the business. This helps in trend analysis and predictive modeling for the business.

Social Engagement

: Engage customers on their terms across Twitter and Facebook using corporate social profiles. This, in turn, empowers cross-team collaboration and being responsive to actionable posts with customizable social feeds and alerts, and integrated CRM processes when service issues and buying signals are identified.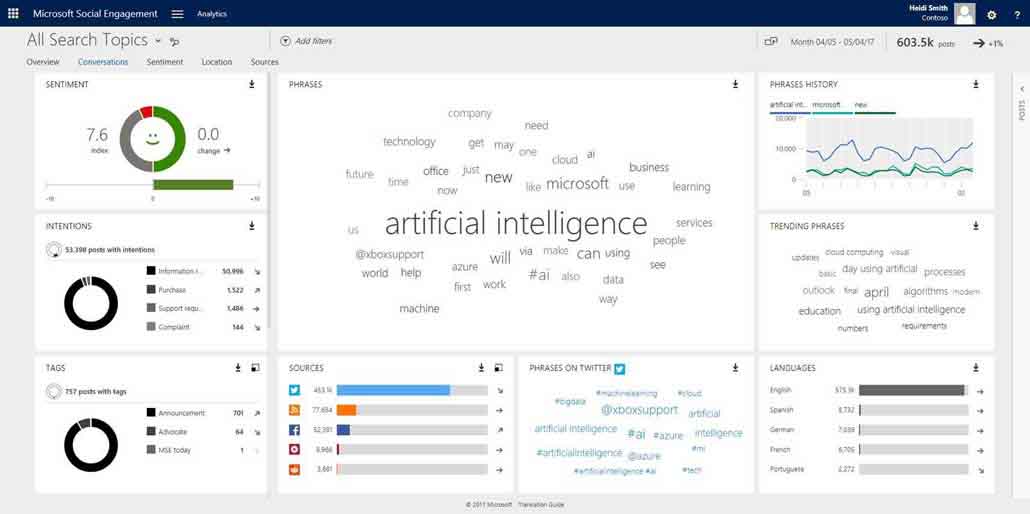 Social Intent Analysis

: Receive predictive assessments about an individual's intent based on their social posts. This, in turn, will alert complaints, information requests and buying decisions with machine learning and adaptive sentiment controls from Microsoft Social Engagement. Posts can be filtered by 5 defined intent tags, or create our own custom tags and notification alerts.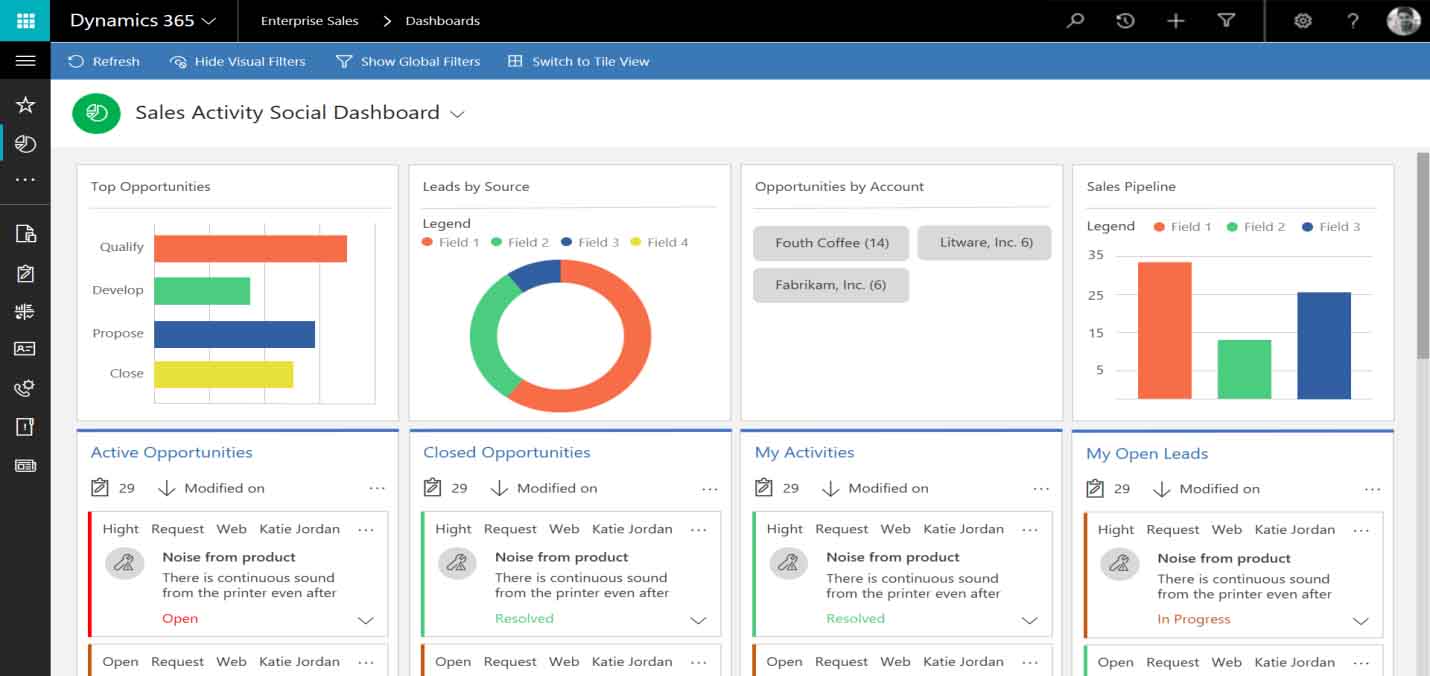 5. Social Selling Assistant:
Upon activation, we will receive personalized posts about the social accounts and topics that matter most to your business and skills on a daily basis. It offers a comprehensive inbuilt machine learning capability which increases the relevance of promoted posts. With this feature, we can discover new insights and share knowledge to earn trust and grow our personal network. Reviewing a day leverages the social assistant to sell more by sharing content and extending your reach.
Microsoft introduced social selling assistant which includes the power of social engagement to bring usability to actual end users. This, in turn, helps them promote content focusing more on specific scenarios, sharing and giving recommendations instantly, to post updates and receive feedback.
Power BI connector for Social Engagement in Dynamics 365
Data management and mining is a crucial issue faced by business professionals today. Social Listening was powerful in the previous Dynamics CRM versions, but with Social Engagement in Dynamics 365, this is a big step which focusses on role-specific needs.

Power BI gives the end user the control over the data and how to analyze it in real time, employing visualization techniques and predictive modeling capabilities making data reporting and understanding simpler.

Microsoft Dynamics 365 along with Social Engagement brings the capability to every marketing and sales professional to do more with social media than just share posts. It empowers analysis and improvement on an ongoing basis.