Mar 12, 2020 Anjan Barman
Microsoft Dynamics 365 extend omnichannel capabilities that allow businesses to offer connected customer service across channels such as SMS, Emails, Chat, WhatsApp, Facebook, and Twitter. This enhances service quality, shortens TAT, delights the customer, and saves substantial service costs.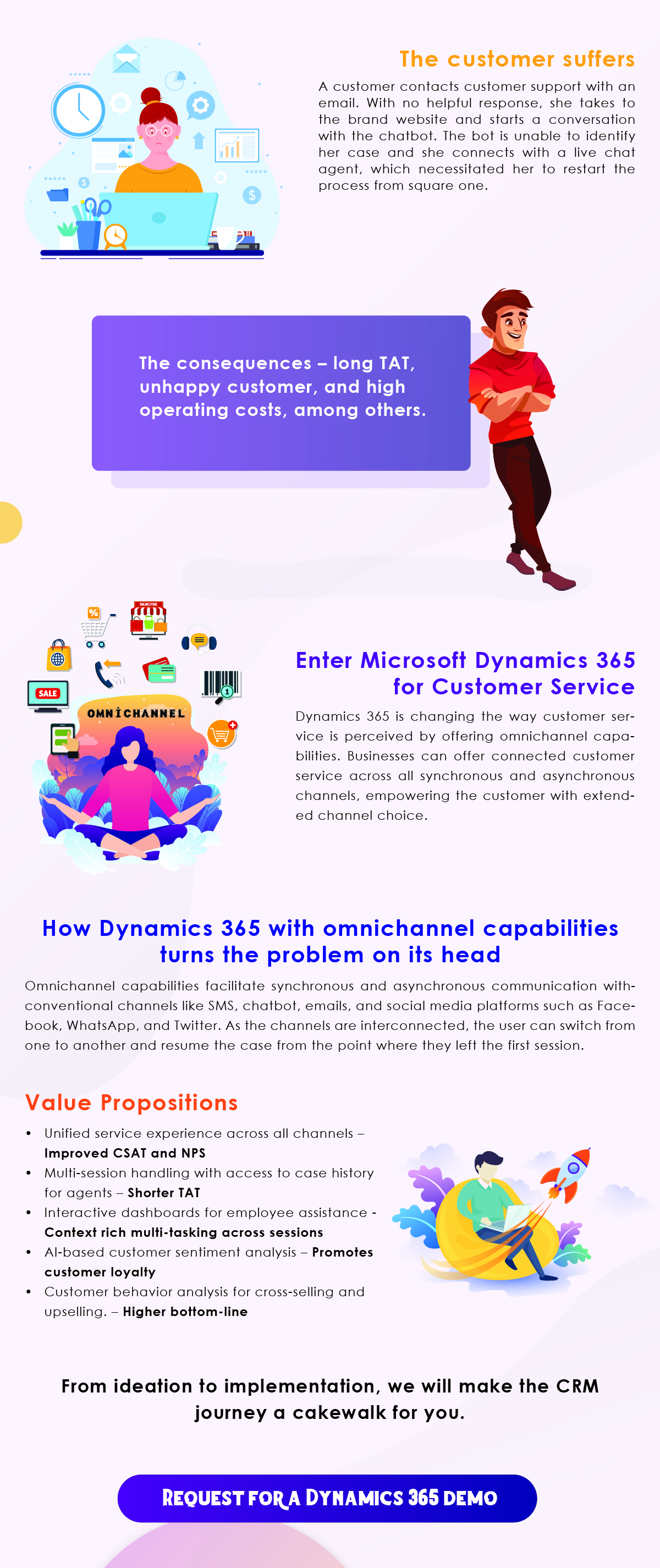 Curious for more? There you are!!
Until recently, the only major channels of customer service were email, SMS, phone call, and sometimes the limitedly capable chat window. The problem was that these were siloed and facilitated no interaction with each other and hence, case context and history were lost with a switch in the channel.
The customer suffers: A customer buys a laptop but it starts malfunctioning from the very first day of use. The disgruntled customer contacts customer service with an email and shares all relevant details. After receiving no helpful response from the service team, she takes to the brand website the following day and starts a conversation with the chatbot. The bot is unable to identify her case and ultimately she connects with a live chat agent. To her utter dismay, this necessitated her to restart the process from square one.
The consequences aren't difficult to guess – long TAT, unhappy customer, and high operating costs, among others.
The average individual indulges extensively in social media platforms such as Facebook and WhatsApp. Naturally, the idea to harness these for efficient customer service might have struck a few thinking minds. Even then, its materialization was a distant dream. Connected customer service through digital media channels was tempting but unlikely.
Enter Microsoft Dynamics 365 for Customer Service
Omnichannel is the answer to this seemingly unsolvable glitch. The AI-backed CRM tool is changing the way customer service is perceived by offering omnichannel capabilities. Businesses can now offer connected customer service across all synchronous and asynchronous channels, thus empowering the customer with extended channel choice. If the customer strikes up a web chat conversation, they can escalate it to a voice or video call at the click of a button without losing the previous conversations, the support quality remains consistent across all channels.
How Dynamics 365 with omnichannel capabilities turns the problem on its head
Omnichannel capabilities facilitate both synchronous and asynchronous communication through conventional channels like SMS, chatbot, emails, and social media platforms such as Facebook, WhatsApp, and Twitter. As the channels are interconnected, the user can switch from one to another and resume their case from the point where they left the first session. This saves time and facilitates effective and efficient resolutions. Customers can also configure callbacks from the agent as per their convenience and agent availability.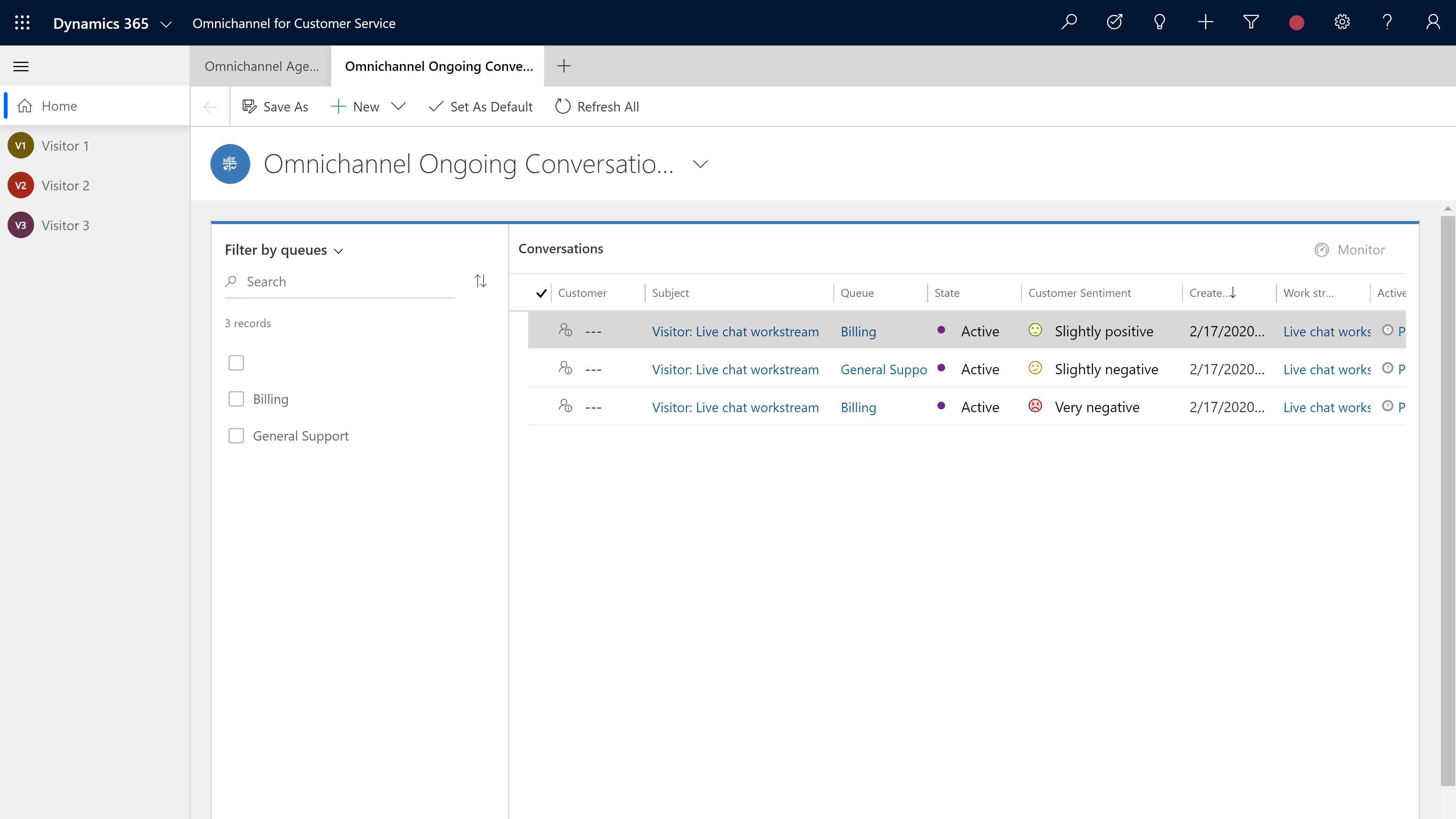 The agent is armed with capabilities to engage seamlessly with customers across channels. They have access to case history, integrated communication, real-time customer sentiment analysis, contextual customer identification, and AI-assistance for offering resolutions. They can search the knowledge repository in search of an apt solution and use the dashboards to search and create service cases. AI is also used for intelligent case escalation and enterprise-grade case routing. The interactive dashboards of Dynamics 365 offer agents a comprehensive view of customer conversation details, customer information, and customer sentiment.
Value propositions

Unified service experience across all channels – Improved CSAT and NPS
Multi-session handling with access to case history for agents – Shorter TAT
Interactive dashboards for employee assistance - Context rich multi-tasking across sessions
AI-based customer sentiment analysis – Promotes customer loyalty
Customer behavior analysis for cross-selling and upselling. – Higher bottom-line
Omnichannel customer service can do more good for your business than you imagine. All you need is a will to reengineer the critical processes and an ideal partner who would help you do that. We can be that partner of yours. Our wealth of experience in Dynamics 365 implementation and support has enabled us to transform businesses and help them scale rapidly.
From ideation to implementation, we will make the CRM journey a cakewalk for you.