Mar 09, 2020 Anjan Barman
Custom app development is a tedious and resource-intensive practice that often leads to high TAT and compromised functionalities. Contrarily, developing apps on Power Apps is a much more comfortable, efficient, and easily maintainable practice that's cost-effective and user-friendly.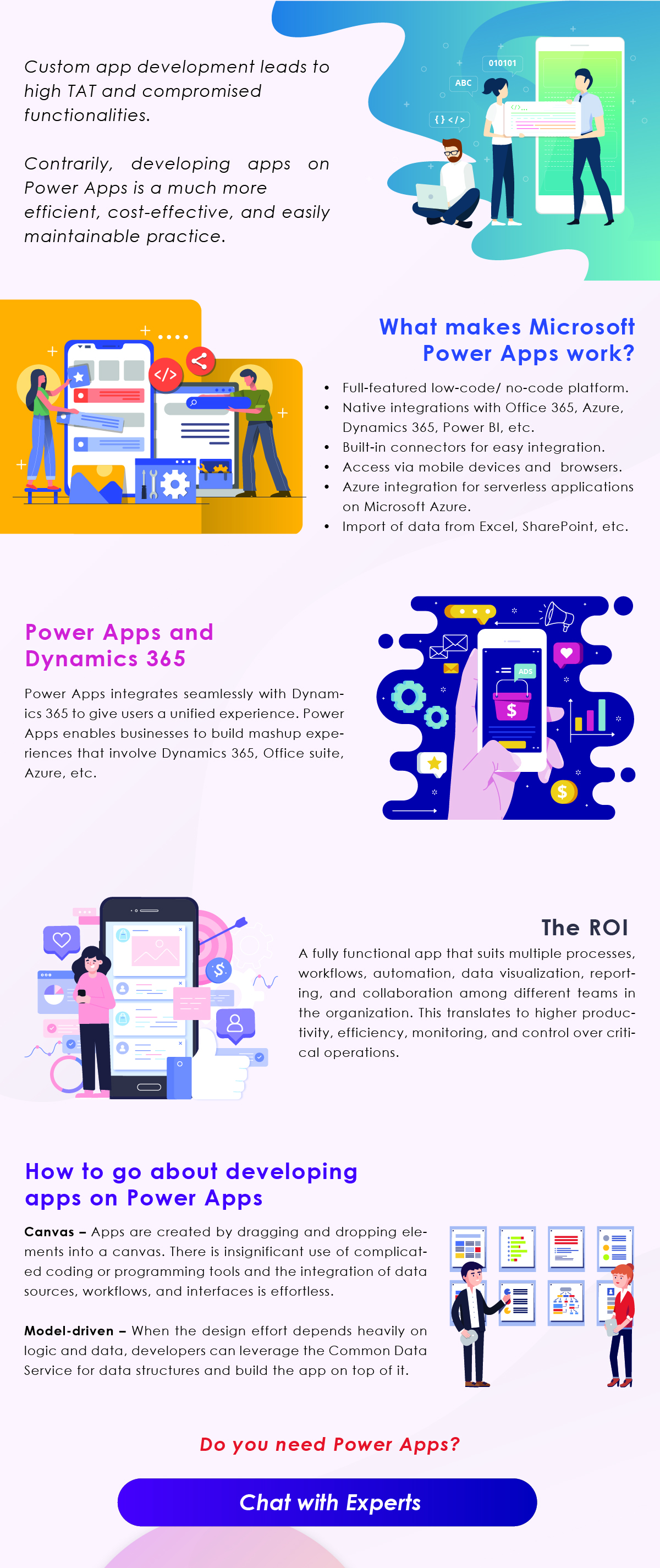 Curious for more? There you are!!
Developing mobile apps may be an inviting option and even an essential business move but the process is a taxing one. While businesses are investing heavily in developing savvy apps for both in-house and external users, the resource-hungry venture and its inefficiencies serve as deterrents. Limitations include unavailability or incompetency of resources, below-par quality, exorbitant costs, undesirably long development cycle, support hassles, and many others.
Power Apps, part of the Microsoft Power Platform family, was planned, designed, and released to tackle such challenges and empower businesses and individuals to create their own apps without the support of specialists. It's a suite of app-building features, services, and connectors to facilitate rapid application development for business needs. Best suited for business-centric apps for internal use, Power Apps significantly cuts down on development costs and time and allows businesses to explore new possibilities with a whole bunch of features and integrations.
Tailored to the dynamics of building business-centric apps (mobile and desktop), the platform allows non-coders to develop interactive business apps using the drag and drop interface. For helpful assistance, it gives access to a library of over 200 connectors, sources, and templates.
What makes Microsoft Power Apps work?
Full-featured low-code/ no-code platform for rapid app development.
Native integrations with Office 365, Azure, Dynamics 365, Power BI, and other Microsoft solutions.
Built-in connectors for easy integration to save costs and improve TAT.
Ubiquitous access via mobile devices and browsers for enhanced productivity.
Azure integration for serverless applications on Microsoft Azure.
Easy import of data from Excel, SharePoint, Sequel, and other sources.
Power Apps beats the traditional method
| Category | Power Apps | Traditional Development |
| --- | --- | --- |
| App elements | Rich features without extensive coding | Intense development required |
| UI design | In-built elements and controls, regular updates | Much granular control of UI elements |
| Device compatibility | Natively supports all mobile and tablet devices across Android, iOS, and Windows platforms. | Need to develop the apps separately for individual platforms. |
| Integration | Numerous Out-Of-The-Box connectors for easy integration. | Significant efforts required to build connectors. |
| Workflow | Alerts, notifications, data gathering, and automating approvals to streamline workflows. | Special efforts needed to integrate notifications and alerts into workflows |
| Reporting | Sophisticated data visualization templates and dashboards for reporting. | Customized dashboards have to be created for reporting using JavaScript. |
Power Apps and Dynamics 365
Power Apps integrate seamlessly with Dynamics 365 to give users a unified experience that injects efficiency into daily operations. Apps can be customized and shared as per requirements, facilitating better communication and collaboration. Power Apps enable businesses to build mashup experiences that involve Dynamics 365, Office suite, Azure, etc., infusing the functionalities of all productivity tools under one roof.
Dynamics 365 capabilities can be extended through embedded mobile apps that fit specific business requirements. By importing data from Dynamics 365 to Power Apps, developers can monitor, control, and modernize workflow processes. Power Apps bridges process functionality gaps and provides users with additional productivity-boosting tools.
The ROI
A fully functional app that suits multiple processes, workflows, automation, data visualization, reporting, and collaboration among different teams in the organization. This translates to higher productivity, efficiency, monitoring, and control over critical operations. The most popular types of apps include onboarding apps, inspection apps, task management apps, etc.
How to go about developing apps on Power Apps
There are 2 approaches
Canvas – An easy development environment where apps are created by dragging and dropping elements into a canvas. There is insignificant use of complicated coding or programming tools and the integration of data sources, workflows, and interfaces is effortless.
Model-driven – When the design effort depends heavily on logic and data, developers can leverage the Common Data Service for data structures and build the app on top of it.
Do you need Power Apps?
If your business uses a CRM or an ERP, relies heavily on data, is sensitive to changing processes and workflows, and demands real-time monitoring and quick actions, your business is in dire need of Power Apps. Our Power Apps experts would help you leverage the true power of the platform that can transform your business.