Talent acquisition, transformation, and management are critical anchors for any organization.
The Human Resource Department often finds themselves submerged in an ocean of challenges ranging from unskilled labor, less than optimal employee engagement, and loss of top talent to other organizations. Adding to this, around half of the employers are concerned about the shortage of skilled talent. The biggest factor which distinguishes an unsuccessful organization with a successful one is 'People'. Keeping this in mind, Microsoft added a new member to its Dynamics 365 family, the 'Microsoft Dynamics 365 for Talent'.
Dynamics 365 for Talent enables exceptional experiences across employee attraction, engagement, development and retention.
Why Dynamics 365 for Talent:
Dynamics 365 for Talent offers comprehensive functional abilities that manage the HR Transformation of your Organization such as: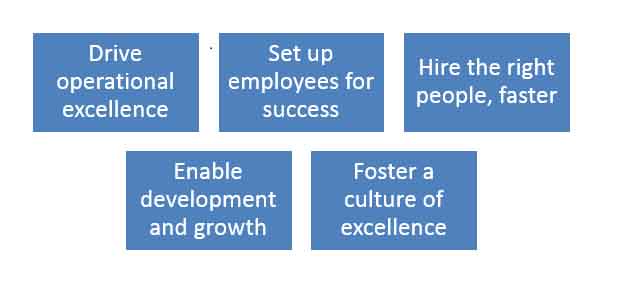 What makes Dynamics 365 for Talent different?
The HRMS module of any organization unifies many of the employee functions like storing employee data, managing payrolls and maintaining policies. This, in turn, makes the entire HR process streamlined and easy to manage. However, they usually aren't employee friendly and often do not benefit the HR department, the Business Unit managers and even the employees (both current and prospective).
This is where Dynamics 365 for Talent comes to play.
Studies have shown that North American firms that institute a human capital management (HCM) strategy are able to reduce their total cost of ownership – the total amount spent per employee on all HR-related services – by an average of 26%. (Source here)
The journey towards customer success starts by hiring empowered, skilled, and engaged employees.
Dynamics 365 for Talent enables you to compete for the best candidates, a major requirement in today's highly competitive job market. From building relationships with candidates from the first contact, to offer acceptance and throughout their employee journey. Also, in turn, streamline the hiring experience by simplifying the interview scheduling process, and increasing transparency between the candidate, recruiters, and the hiring team. Enable immediate feedback between the hiring team and candidates to shorten the time to fill vacancies.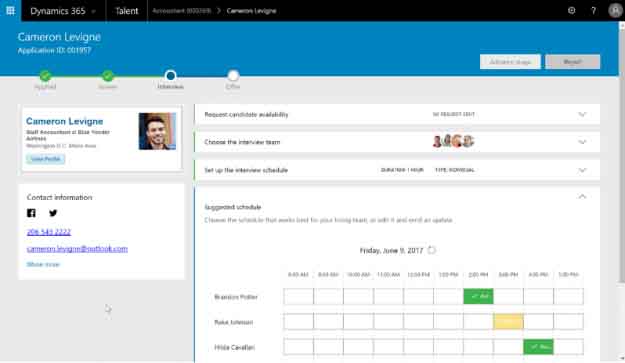 Rich Candidate Engagement:
The cost of hiring the wrong candidate is much greater than missing out on someone good.
Attracting the right candidates requires us to provide a transparent and compelling experience to keep candidates engaged and excited throughout the hiring process. Dynamics 365 for Talent lets us achieve this by showcasing our corporate culture and creating a good first impression – an important aspect of getting the right candidates on board. Giving candidates the power to track their job application, submit interview availability, and get transparency across the entire hiring process.
Efficient Onboarding:
People forget what you said, but they will never forget how you made them feel – especially on the first day at work!
The hiring process doesn't stop at just providing offer letters but continues until after the onboarding. Very often, new hires find themselves struggling to contact the right people, get access to the right tools, and the right information on their first day or work.
With Dynamics 365 for Talent, we can create step-by-step onboarding templates for every new employee and keep them engaged, right from the first day. This, in turn, will introduce candidates to their new colleagues, and their mentors, and help them connect with them ahead of their arrival. Let the new employees know what to expect – give them a list of activities to be done, the right people to meet, training to be undertaken, and ensure an efficient onboarding.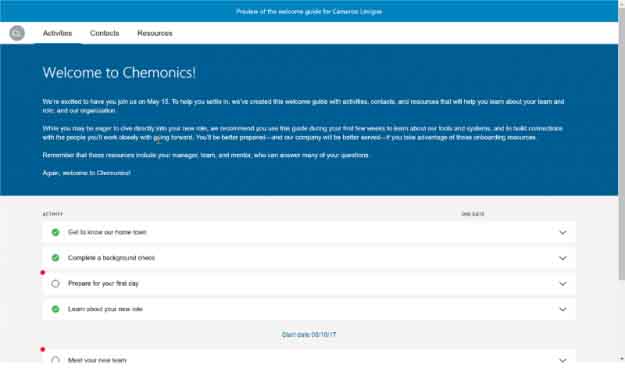 LinkedIn Integration

:
Over 58% of human resource staff time is spent on administrative tasks, and on feeding data into multiple systems.
One of the biggest challenges HR teams face is the assimilation of data from multiple sources which include LinkedIn profiles, resumes, portfolios of work, and actual job applications which need to be matched to the selection criteria for each role. This brings in the problem of Data redundancy.
Dynamics 365 for Talent's seamless integration with LinkedIn's Recruiter service which gives HR access to the right tools for employee recruitment, onboarding, and retention, making the entire hiring process more transparent. Directly search for new talent from LinkedIn, get every candidate's LinkedIn profile, send calendar invites, set up interviews, and manage interview feedback from a single console.
Employee Enablement

:
Employees who feel appreciated and empowered always do more than what is expected.
Dynamics 365 for Talent puts employees at the center of everything and empowers them to take full control of their administrative tasks. This will enable them to focus on new initiatives and programs that align with business goals, and offer them the insight required to take actions. Also, providing managers all necessary information from compensation, competency, and leave – in a single console which offers insights through embedded Power BI reports. Giving people the right tools to do their daily jobs successfully, and get the required analytics to simplify processes, facilitate agility and optimize HR programs.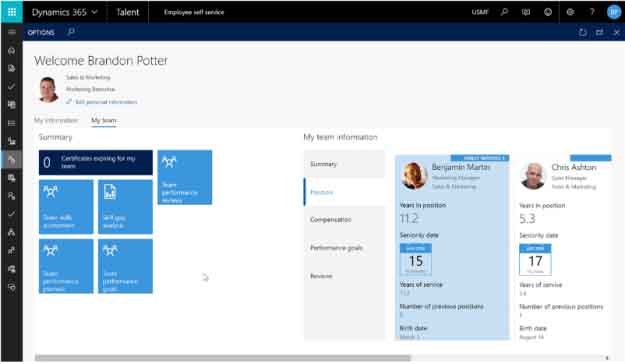 Dynamics 365 for Talent's one stop shop for all aspects of attracting and retaining top talent puts it at the forefront of the HRMS game:
Create precise candidate profiles, conduct fruitful interviews, and enhance the ROI of your hiring process.
Enable a seamless onboarding experience, and accelerate the productivity and business impact of new hires.
Streamline the human resources management process and maximize retention.
Get the best people on board, empower employees to give their best to their jobs, and fulfill all their business objectives.