Jan 09, 2020 Anjan Barman
Every e-commerce venture revolves around its business challenges, operations, and goals.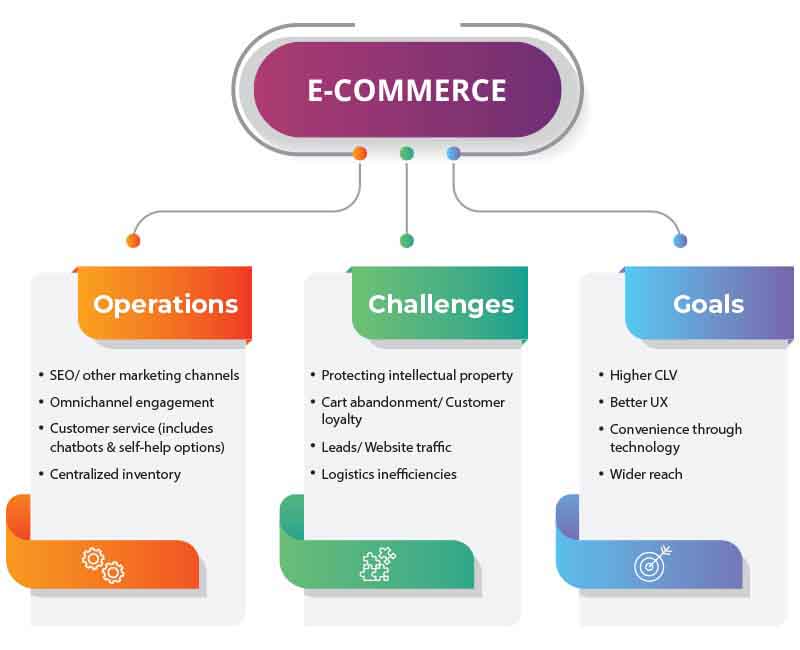 Microsoft has just added Dynamics 365 Commerce to its Dynamics 365 suite. Dynamics 365 Commerce has been designed to take up every existing and potential problem in retail, particularly e-commerce. It has several distinct features to distinguish itself from the already popular Dynamics 365 for Retail but a closer look reveals that it's an extension of the Dynamics 365 Retail capabilities with the focus primarily on the online retail arena.
It's astonishing how each feature of Dynamics 365 for Commerce precisely targets some or the other day to day problem that every large, small, and mid-sized e-tail player faces. The result - an end-to-end solution that helps e-tail businesses reach heights they aspire to scale.
Dynamics 365 Commerce salient features
Self-help tools to create and manage digital pages
To start with, it largely cuts down your dependency on your staff – particularly the designer and the coder. The new page editor feature grants you access to everything that you need to create engaging online marketing pages and striking storefronts without the knowledge of coding and designing. You master the art of dealing with layouts and indulging in intricacies like page redirections.
The more engaging your platform gets, the longer is the session length, and hence, better the conversion. Also, with originality in designs and features, the risk of replication by competitors drops.
The benefit of the page editor is twofold – fewer resources and satisfactory results.
AI-based inventory management
Inventory is a critical factor that steers the operations of any business entity with an online presence. For maintaining optimum inventory levels and displaying products on your platform, there's a digital asset management system. Easy uploading of product images, videos, and other media saves time and effort.
The smart AI-insights make workable suggestions on current and future trends that allow you to adjust your inventory accordingly and raise product affinity of customers. The inventory management feature helps prevent overstocking and understocking. Thus, it assists in optimum capital investment and better warehouse space utilization.
Dynamics 365 Commerce facilitates optimum inventory management.
Round the clock performance monitoring
Dynamics 365's easy-to-use modern tools help you monitor and significantly improve key indicators like web traffic, bounce rate, conversion rate, and all other analytics. The interactive dashboards provide drill-down views of the performance of your marketing and other activities so that you can take timely actions.
Target-oriented marketing
Another benefit of intelligent insights is that they help you target promotions, merchandise, loyalty programs, and product recommendations at customers who are most likely to respond positively. Because these are based on customer history and behavior, they are highly accurate and result-oriented. Consequently, you bear low costs of acquisition and conversion and enjoy markedly raised revenues.
Dynamics 365's omnichannel engagement assures a strong impression on customers while commanding control over the performance of outbound messaging like newsletter subscriptions, social media promotions, and other affiliate endeavors bring rich dividends.
A sure-fire way to win customer approval and gain a competitive edge in the market.
Correct pricing with intelligent assistance
Dynamics 365 for Commerce also helps in pricing and price adjustments as per market trends and demands to cut down on instances of cart abandonment. This is immensely helpful during promotions and special sale seasons. High customer lifetime value is one of your primary motivations and smart implementation of the Dynamics 365 Commerce insights helps you reach thrilling CLVs.
Optimum use of capital and storage delivers the desired results.
Ubiquitous communication for better service
A major concern for all online players is customer loyalty and churn rate, and the quality of service delivered has a substantial bearing on both. This is why cloud is being leveraged heavily by Dynamics 365 to streamline frontend and backend operations and delivery in e-commerce businesses. Cloud facilitates flawless cross-departmental collaboration and eliminates all communication glitches to allow real-time monitoring of operations. Also, customer feedback and suggestions are analyzed by AI to help you improve product and service quality.
Economical and effective logistics
Customers patronize good service providers and logistics is a very delicate aspect of ecommerce service. To weed out logistical hitches, there's an impressive arsenal of tools providing wonders like route optimization, shipment return-process streamlining, real-time shipment status, tracking of delivery partners and so on.
24/7 monitoring and control of business. Ubiquitous access gets everyone on the same page for better efficiency.
Finally, unmatched customer experience
Today's customers have several demands, they want omnichannel access, fast delivery, personalized shopping experiences, and their suggestions implemented. They want to access your offerings using a mobile, tablet, laptop, or desktop and place their orders in the same way. They want to be reached out to for their valued feedback.
Omnichannel access and self-service options empower customers. Better service implies higher CSAT.
Customers also want their issues to be resolved promptly and quickly and demand self-help options. Dynamics 365 for Commerce encourages your customers to share honest and actionable reviews of products and platform experience and helps you act on them. Happy customers imply higher wallet share, more opportunities, and better acceptance. Dynamics 365 for Commerce offers each of these features and many others. The bottom line is that the very survival and growth of your business lies primarily on one factor – customers, and hence Dynamics 365 Commerce – just what the doctor ordered.