Mar 09, 2020 Anjan Barman
A new possibility in the realm of customer service where web channel, phone, virtual chat, live chat, email, self-service, and community support are subsumed to give a seamless, expertly integrated experience to the customer.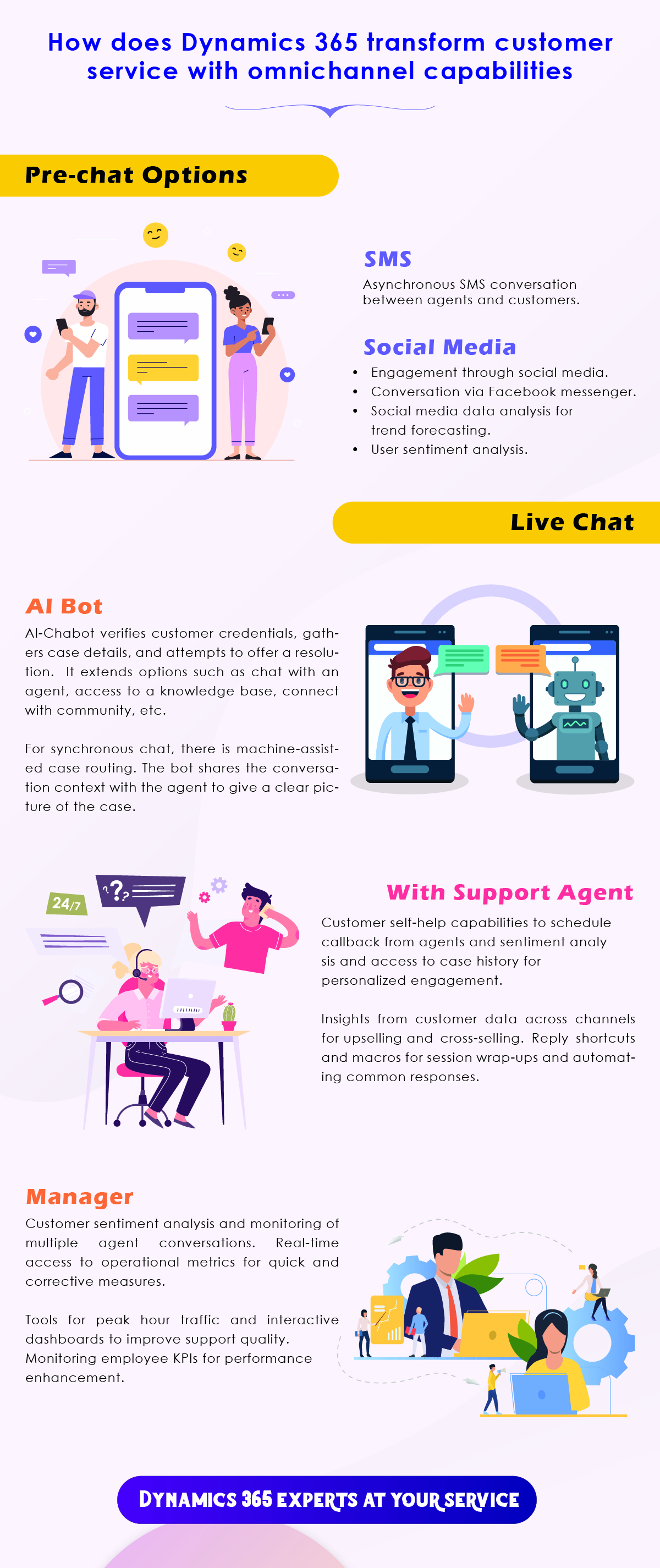 Curious for more? There you are!!
Multichannel engagement will soon be a thing of the past and shall be replaced by the omnichannel approach, the chief reason being matchless convenience. The primary difference between the two is that in multichannel support, every mode (website, email, face-to-face interaction, etc.) is siloed with little to no intercommunication with one another. In the omnichannel model, all touchpoints are combined for a coherent customer journey and individuals can connect with businesses using their preferred channel.
Omnichannel bridges the gap between different channels and the experience of the customer is consistent regardless of the journey chosen.
Here's an example
Jean checks out a jacket on her favorite brand's website and enquires about its colors and prices. However, to avoid fitting woes, she visits the nearest factory outlet and buys the jacket. The next day, while getting ready for work, she decides to wear it but finds a broken zipper. Running short of time, she takes to the online support portal and takes up the problem with the AI bot. The bot replies that since she purchased the jacket from the outlet, she has to contact it for further actions. Jean is disappointed as she expected the manufacturer to handle the matter regardless of her approach.
The above example aptly highlights the importance of omnichannel customer service where the case of Jean would have been addressed and resolved quickly and to her satisfaction.
Today, customers don't want to treat any brand in silos. They dislike viewing the store and website as discrete entities and want a combined experience of online, in-store, mobile app, social media, and other interactions. Businesses that force the customer to stick to a single channel stand to lose popularity and growth prospects.
Microsoft Dynamics 365 CRM extends omnichannel capabilities to enable businesses to deliver linear, dynamic, and connected customer support across all channels. Conversations can be constantly monitored and managed without initiating the case from the beginning when the channel is switched.
Dynamics 365 Customer Service, with its suite of omnichannel capabilities for service agents and managers, is changing the face of customer experience like nothing else.
How does Dynamics 365 transform customer service with omnichannel capabilities
Pre-chat options
---
SMS
Asynchronous conversation over text messages on the go between agents and customers.
Social media
Engagement through social media.
Conversation via Facebook messenger.
Social media data analysis for trend forecasting.
User sentiment analysis.
Live chat
---
AI bot
An AI-Chabot verifies the customer credentials, gathers case details, and attempts to offer a resolution.
If it fails to do that, it extends other options such as chat with an agent, access to a knowledge base, connect with community, etc.
If the customer chooses synchronous chat, there is machine-assisted case routing to agents based on their availability and expertise.
The bot shares the conversation context with the agent to give a clear picture of the case.
Intelligent case-priority assessment to expedite issues requiring immediate attention.
Survey questions to help agents get the case context before starting a conversation.
With support agent
Customer self-help capabilities to schedule and configure callback from an agent.
Real-time sentiment analysis and access to case history for personalized engagement.
Insights from customer behavioral, transactional, and historic data across channels for upselling and cross-selling.
Access to an integrated knowledge repository and options to consult with other experts.
Reply shortcuts and macros for session wrap-ups, sending emails, and automating common responses.
Manager
Tools to assess case priority and measure customer sentiment.
Monitor and analyze multiple agent conversations and intervene when required.
Real-time access to operational metrics for quick and corrective measures.
Tools for efficient workflow handling during peak hours and avoiding overburdening agents.
Interactive dashboards to improve support quality and suggestions for process efficiency.
Monitoring employee KPIs and insights for performance enhancement.
Dynamics 365 has helped countless businesses to reimagine their customer service. If customer satisfaction is your primary concern, you ought to give Dynamics 365 a shot. And we will help you derive the best out of it with smart implementation and long-term support. The journey starts with a quick chat.