May 02, 2018 Mohamed Irfan
To track and manage the delivery of products, managers have been using different software tools in the past. With the now popular Microsoft Dynamics 365 for Project Service Automation, you can build your work breakdown structure into a project plan, which is a robust end to end solution. Microsoft Dynamics 365 for Project Service Automation helps to build trusted customer relationship and a solid reputation for delivering outstanding project experiences. Dynamics 365 for PSA also helps service team with their price, plan, staff, and execution of projects on time on budget and building an essential foundation for trusted customer and client relationships.
Project Service Automation extends Dynamics 365 to provide a single system of customer engagement for sales.
Project Service Automation helps,
To deliver the billable projects while managing the timing and budget.
To estimate the quote for the project
To plan and assign the resources to the project
Enabling communication, coordination, and collaboration within the team.
Capabilities of Project Service Automation:

Opportunity Management:
The project service functionality starts with opportunity management. The opportunity project information form helps to manage the deal for a potential project.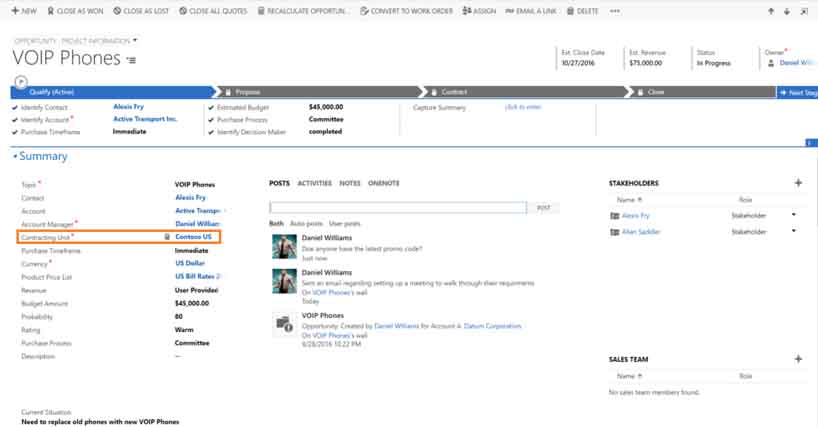 It helps the project managers to quickly assess project profitability, create project contracts, track labor rates and generate statements of work. The user can able to choose the contracting unit in opportunity management, which helps to assign the right resources for the project to deliver it on time.
Project Planning:
Project planning tools and templates make it easy for sales managers to collaborate with project managers to estimate and define the work upon which the costs, effort, and sales value are clear when the final proposal is submitted.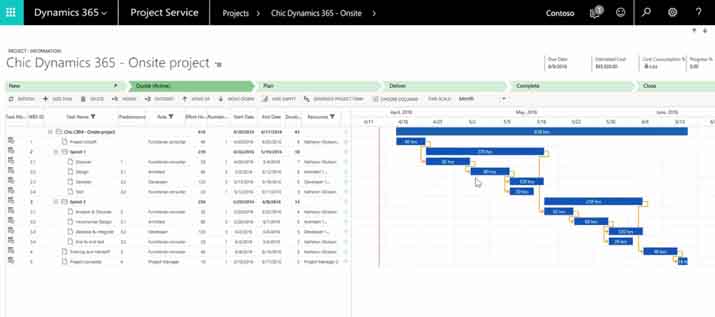 All the information of the opportunity has pulled over into the project and starts to estimate actual start and finish dates, hours and costs. Work Breakdown Structure provides a breakdown of all the pieces of work that will be required to deliver this project.
Resource Management:
Resource management gives the clear view of what the task is and what to deliver, to which resourcing unit that role belongs to, the duration, how many resources and hours.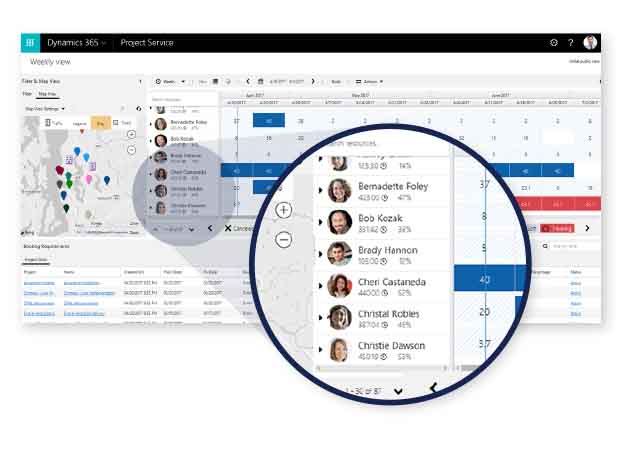 Resourcing decisions are based on real-time insight into consultant availability.
Benefits:
To get better resource visibility
Can maximize the utilization of our employees which leads to getting better returns on investment.
Can save time and money by utilizing the right amount of resources.
Team Collaboration:
Office 365 simplifies the collaboration process by connecting to people, information and tools need to get work done together.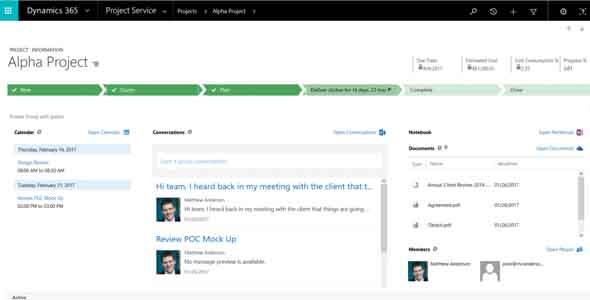 Project teams and customers can connect in many ways,
Communicate and share the latest project details
Track documents, deliverables, and productivity with office 365.
Time & Expenses:
It allows the employees to track their work efforts and occurred costs for assigned project tasks in the form of time and expense entry.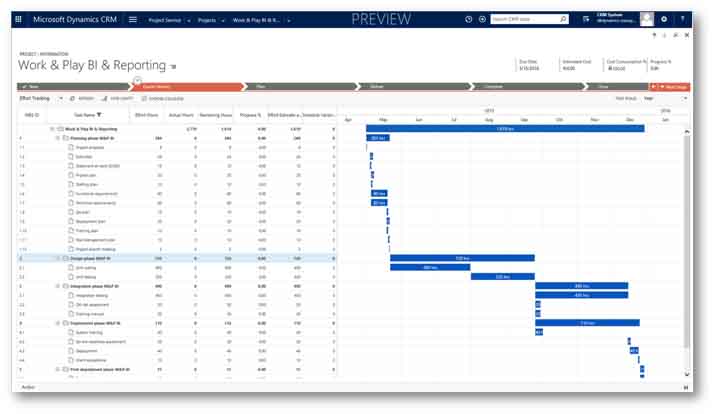 It allows the users to specify the start and end time of tracking entity.
It helps employees plan and controls their progress with the project.
Web, Office and Mobile apps make time and expense entry quick and easy.
Customer Billing:
Project managers can review override, track overruns and approve costs all in one place with the help of customer billing tools.
When it's time to invoice, everything is in place to get accurate invoices to be given to customers.

Analysis & Integration:
Uniform tracking of financial events that affect profitability, revenues, accrual, and expenses provides a strong basis for reporting, integration and analytics and interactive dashboards.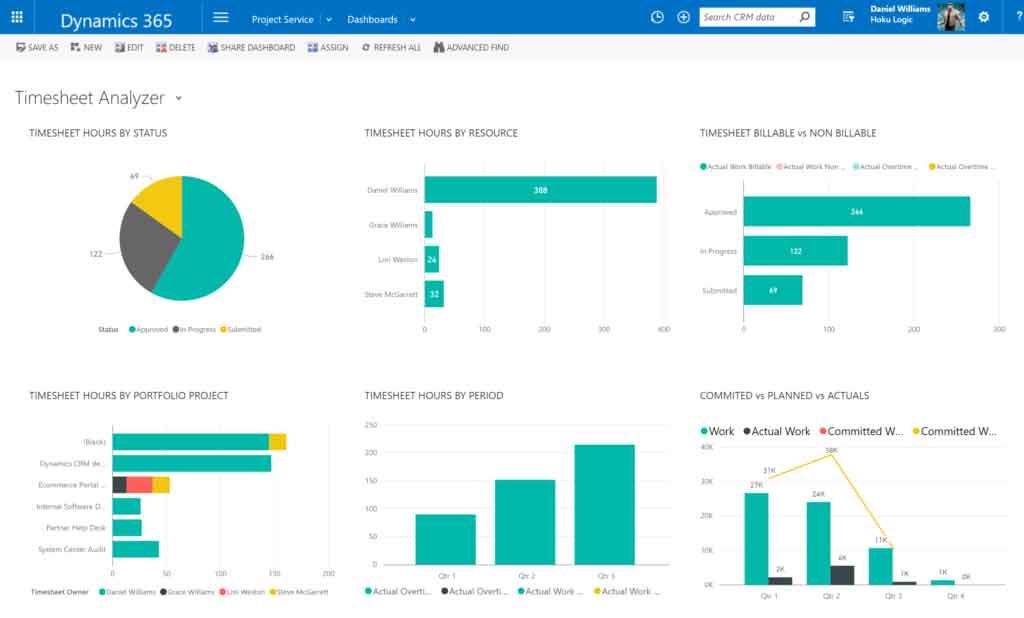 More than just a project management tool, Microsoft Dynamics 365 PSA helps to ensure an organized and standardized workflow as well as it offers full reporting and management capabilities for the delivery management team across the project. It helps keep the project flow in an absolute and coordinated way from sales till delivery.